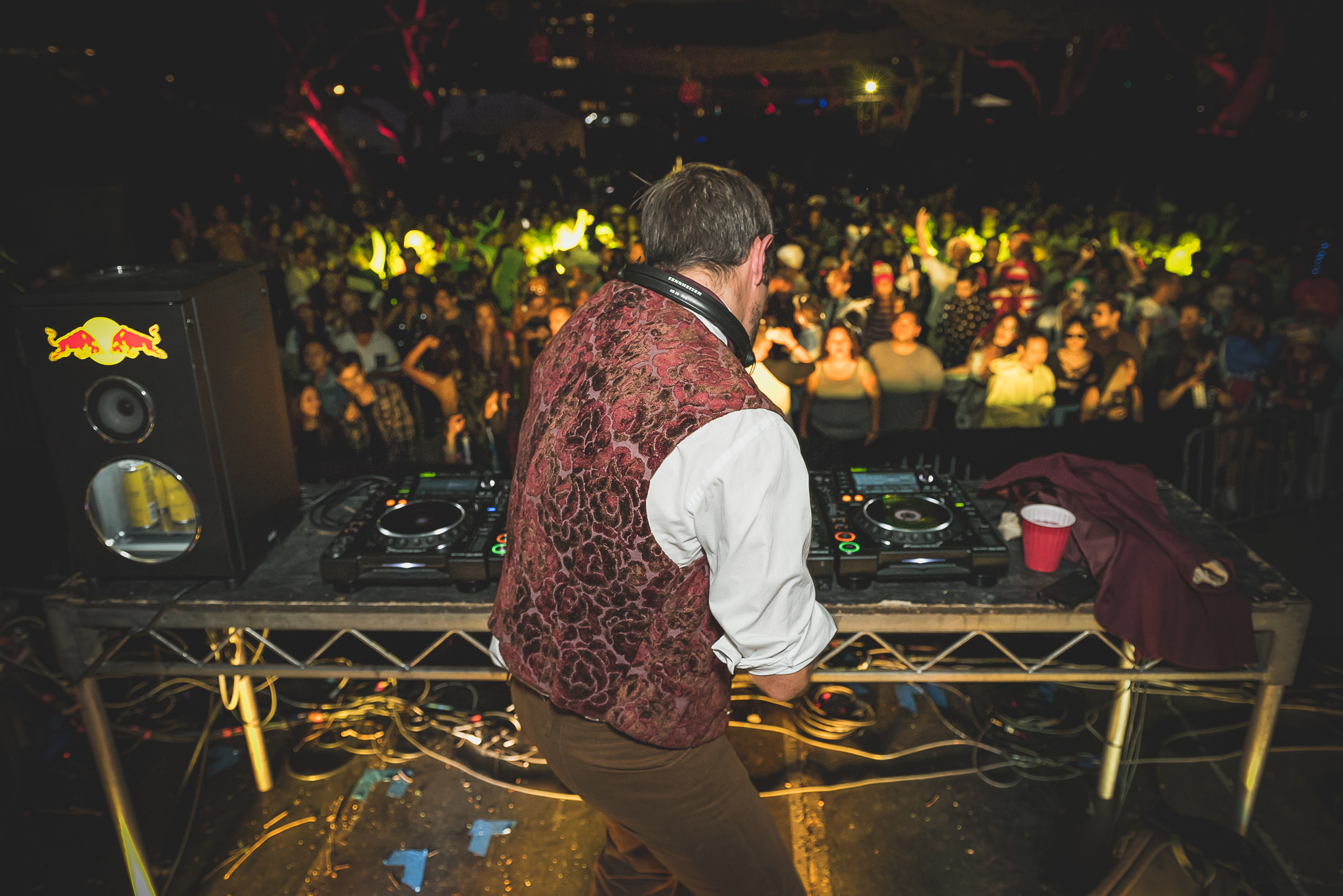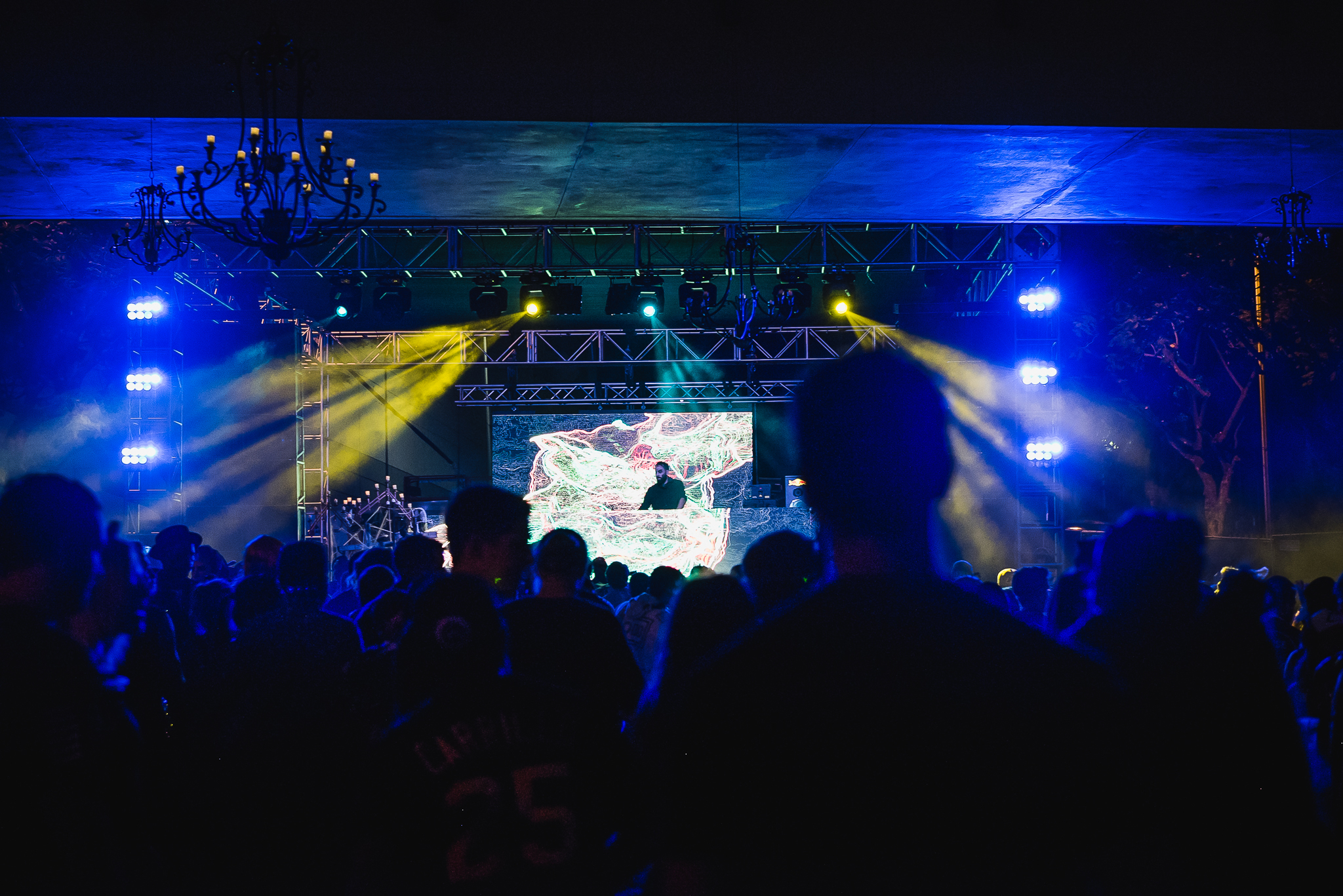 Minimal Effort Halloween took place at the Los Angeles Center Studios in the heart of Downtown. Festival-goers gathered in this concrete alcove, submerged beneath the city skyline. Starting in the late afternoon and persisting through the evening, the event ultimately came to a close at 2 a.m. The festival was refreshingly intimate in size, accommodating between 2500-4000 guests. The grounds provided both indoor and outdoor space that allowed for the construction of a unique festival arrangement. The sole indoor and two outdoor stages became hubs of engagement between crowds and performers.
Prior to the festival I had the opportunity to chat with one of the founders of Minimal Effort during my show, Moon Casual on KXSC. Cyril, one half of music duo Human Resources, explained how the pair evolved from their start in producing and performing music to organizing events. Cyril and Ahmed met in Los Angeles and struck up a friendship over their similar tastes in music. Once they realized their collaborative potential, the two began performing together as Human Resources. As time went on, their engagement with music furthered a pursuit of throwing events of their own. Today, they put on roughly 150 events each year including Clinic Wednesdays and Minimal Effort.
The festival's three stages, The Bridge, The Garden, and The Suara Room, hosted a conglomeration of talent spanning across the electronic music spectrum. The lineup's variety showcased performances deriving elements from funk, dub, variants of techno and house, electronic, and minimal. The festival's size expedited travel between stages, facilitating immersion in the wide array of sounds.
Swedish producer Jonas Rothsman delivered an energizing set filled with driving kicks, rhythmic bass, house-inspired vocals and melodies, and dance-invoking accent percussion. In The Suara Room, Edu Imbernon's set had the crowd moving to a fusion of funk and electronic instrumentals. Tensnake brought disco, Motown, funk and soul to The Garden Stage with upbeat grooves, rhythm guitars, and lively percussion. Steve Bug's performance featured minimal house tracks with futuristic overlays that propelled the audience in motion. Totally Enormous Extinct Dinosaurs' mix started with some bouncy yet hitting dance tracks reminiscent of bump-n-grind and house. TIGA closed The Garden with a set of originals, performing vocals and selected instrumental elements live.
In case you missed the Halloween celebration, Minimal Effort just announced the first set of acts confirmed to perform at their New Years Eve event. So far the lineup includes Recondite (Live), Simian Mobile Disco (DJ Set), Stephan Bodzin (Live), Audion (Live), &Me, Francesca Lombardo, Sacha Robotti, Amtrac, Chrome Sparks (DJ Set), Kastle, Nicola Cruz (Live), Human Resources, and The Desert Hearts Crew (Mikey Lion, Lee Reynolds, Marbs, and Porkchop). The celebration will also be taking place in Downtown at the Los Angeles Center Studios. Tickets go on sale Monday, November 7th at 12 p.m.!
ARIELLE BAPTISTE, DJ COORDINATOR, MOON CASUAL, SUNDAYS 2-4 PM
Photo Credit: Christopher Soltis, Glen Silva, Ram Twail, Conner Coughenour