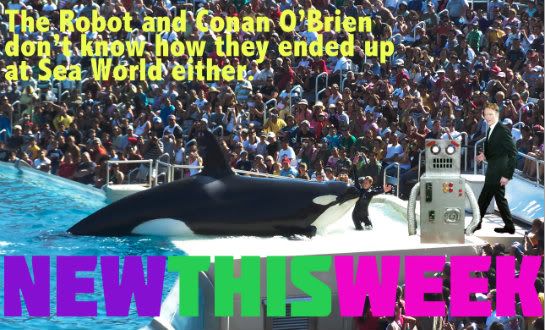 HEY GUYS SO YOU KNOW WHEN YOU HAVEN'T SLEPT FOR 72 HOURS AND AN UNWELCOMED LAYER OF CRUST FORMS ALL AROUND YOUR POOR LITTLE EYES BUT YOU STILL MANAGE TO CLEARLY SEE THE CEMETERY OF EMPTY RED BULL CANS (APPROX. 5) YOU'VE CREATED IN THE CORNER OF YOUR DESK AND THE TINIEST LITTLE SILVERY LIGHT REFLECTS OFF THAT ONE HORRIBLE-TASTING SUGAR-FREE ONE THAT YOU ACCIDENTALLY BOUGHT AND IN THAT VERY MOMENT, THAT ONE SINGLE SECOND, YOU CAN ACTUALLY FEEEEL YOUR BRAIN CELLS FINALLY GIVING UP? WELL I'M PRETTY SURE THAT JUST HAPPENED TO ME SO I DECIDED TO TAKE A BREAK IN ORDER TO UPDATE Y'ALL ON SOME NEW MUSIC BUT I'VE ALREADY GONE WAY PAST THE AMOUNT OF TIME I ALLOTTED MYSELF AND MUST RETURN TO MY VACUOUS PAPER-WRITING HELLCAVE SO HERE YOU GO:
Clinic - Free Reign
"They changed their analog synths to the 'Suicide' setting to see where the drones would take them." Where am I? What year is this? You will ask yourself the same thing while listening to Clinic's latest album. Being lost never felt better. Their noise rock and post-punk and riveting sounds and vintage keyboards (YES) and I think that's an off-scale chord progression. So thick, so heavy, so uuughhh mmm YES. Clinic took a look back to the music of the 1960s and 70s, like the Monks (!!!) They wear surgical masks (or Hawaiian shirts if it's an outdoor show) while performing, an homage to The Residents. Even their background check passed with flying colors. -JH
Recommended Tracks: "Miss You", "Misty", "You"
Domenico - Cine Privé
The new wall gets a bit more worldly this week with the latest offering from Brazilian singer-songwriter Domenico Lancellotti. The music takes plenty of inspiration from Western groups like Stereolab (do I mention Stereolab in every review?) and Yo La Tengo, marrying driving lounge grooves and sonic experimentation with Lancellotti's breathy Portuguese lyricism. And look, Glenn Kotche from Wilco is on this record! - ZN
Recommended Tracks: "Cine Privê", "Ondas Do Mar", "5 Sentidos"
Lindstrøm - Smalhans
After a bizarre detour into "circus-on-acid" territory with February's Six Cups of Rebel (speaking of which, how terrifying would THAT shit be? I can barely handle clowns sober), Norwegian producer Hans-Peter Lindstrøm triumphantly returns with a heaping helping of back-to-basics cosmic disco. Nestled somewhere between Sonic the Hedgehog and fellow astronaut Todd Terje (who handles mixing duties here), Lindstrøm builds a beefy palette of analogue synth sounds and pounding 4/4 beats fit for the dancefloor of Tomorrowland. - ZN
Recommended Tracks: "Rà-àkõ-st" , "Ęg-gęd-ōsis", "Vā-flę-r"
Recommended Pronunciations: You're on your own.
Brian Eno - Lux
Inspired off of the play of light through the window of Eno's studio, Lux is soft airy for about the first 37 minutes, but the music has more tension as the album progresses. Lux is Eno's first album since 1975's Discreet Music, and shows the amazing progression of his sounds. The pieces within the music come from Eno's noise installations. BUT you actually can picture the light in the music. -JH
Recommended Tracks: "Lux 1", "Lux 3"
Sonic Youth - Smart Bar Chicago 1985
As a functioning college radio station, we'd be remiss to ignore a Sonic Youth release recorded in 1985, a time when media outlets like ours were considered vital tastemakers in the underground music scene. I'm sure a few music directors were present at this uncompromising set from SY's tour in support of Bad Moon Rising - you'll hear all the cacophonous "hits" from that record, including a blistering "Death Valley '69" and "Brave Men Run (In My Family)". Also check out a menacing early version of "Expressway to Yr Skull" that runs a full nine minutes. Ahh, the early days of Thurston/Kim! To be young and in love, playing discordant noise rock to a bunch of No Wave fanatics! Life is tricky, my friends. Don't take anything for granted. - ZN
Recommended Tracks: "Death Valley '69", "Expressway to Yr Skull", "Brave Men Run (In My Family)"
MUCH THANKS TO THIS WEEK'S SPONSOR FOR PUSHING ME DEEPER INTO THE ABYSS THAN I EVER IMAGINED POSSIBLE. IT'S PRETTY CHILLY DOWN HERE. I THINK I JUST SAW JAMES CAMERON.
RED BULL GIVES YOU WIIIIIIINGS!
(& heartburn & sleeplessness & mania & momentary blindness & paralysis of the left foot & shitty papers)
Y0URZ 4 ET3RNiTY, (OR AT LEAST UNTIL I COME DOWN FROM THIS ENERGY DRINK ~HIIIIIGH~)