But actually, this is really happening.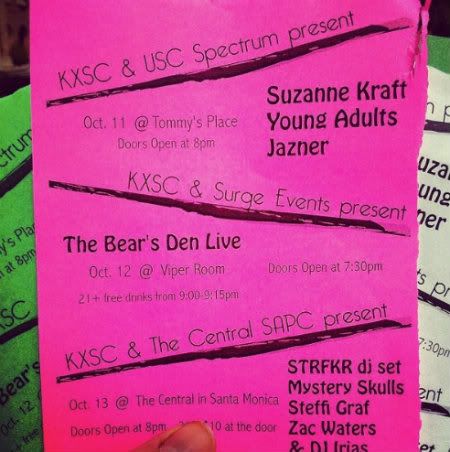 See? Flyers. Totally official.
It's never a boring weekend at KXSC and we want to share the fun with you. Join as one, two, or all three of our Triple Crown Trifecta Triumvirate Threesome Three Day Event.
Thursday, October 11th
KXSC & USC Spectrum
Suzanne Kraft // Young Adults // Jazner
Tommy's Place // 9pm // all ages // FREE
RSVP to the Facebook event here.
Friday, October 12th
THE BEAR'S DEN LIVE presented by KXSC with Surge Events Hollywood & Angel City Enterprises
The Greg Comes Band // Dirty Sanchez & the Fuckits // Our Hospitality // Uniform Standard // 4 Billion Souls // Rockimera // Barry Levine (acoustic)
The Viper Room // 7:30pm // 21+ // $10 online or $12 at the door
Hosted by KXSC's own Barry "The Bear" Levine
RSVP to the Facebook event here.
Saturday, October 13th
KXSC & The Central SAPC present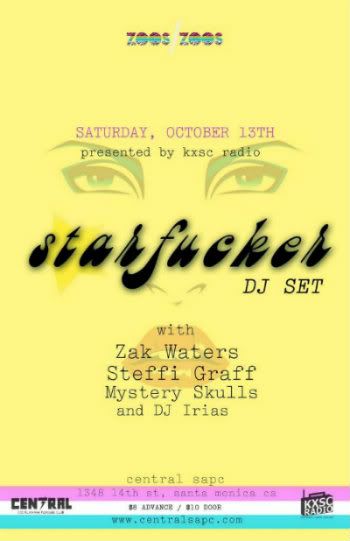 Starfucker (DJ set) // Mystery Skulls // Steffi Graf // Zak Waters // DJ Irias
The Central SAPC // 8pm // 21+ // $8 online or $10 at the door
RSVP to the Facebook event here.