Alex visited the annual Silver Lake Jubilee, a mini music festival that caters to the familial artistic community in the heart of the Silver Lake neighborhood featuring LA-native bands in the line up. Here's what she experienced on the festival's first day.
Upon arriving at 2 p.m. last Saturday at Silver Lake Jubilee (SLJ), I felt like I had stumbled upon the coolest neighborhood block party. Lovely aromatic smells of various food truck fares wafted throughout the air, and families, couples, and teenagers drifted in and out through the array of music and clothing vendors. The entire atmosphere was unbelievably welcoming and exciting. Even before Jubilee began, I was already impressed and pleased with the lineup. Many bands were veteran performers of the KXSC stage (Sister Crayon and Rainbow Arabia who performed on Saturday, Slang Chickens and One Trick Pony who performed on Sunday), but I arrived to the 2nd annual Jubilee and saw an even greater plethora of amazing Los Angeles bands that performed. I was glad that I had chosen to spend my afternoon here.
My main goal on Saturday was to interview Lady Danville, a local trio from Los Angeles, whom I interviewed in my wee inaugural years as a KXSC (then KSCR) DJ. So, I admittedly came to Silver Lake Jubilee to mainly see one band and was then treated to one of the best local lineups that I have seen in a while.
After snacking on some delicious cheeseballs and buying a Lovely Bad Things cassette tape, I mozied on over to the Sunset Stage, one of two the two concert stages conveniently positioned at each the end of the street, with a large group of people already gathering.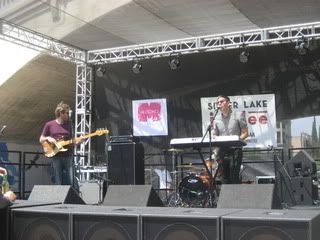 Psychic FriendPsychic Friend, a relatively new band, made up of keyboardist and lead vocalist Will Schwartz (of Imperial Teen), drummer Patty Schemel (of Hole), and guitarist Bo Biddie immediately caught my fancy with some toe-tapping tunes. Schwartz's sharp falsetto was so wistful and provided an excellent contrast to the thumping of the Biddie's drums and the upbeat chords from Schwartz's keyboard.
After this bright, poppy set, I casually began to walk around again, drifting nearby to hear a poetry reading, checking out the Santa Monica stage on the other end of Myra Avenue (the young, "punk rock-esque" band, Audacity was playing), and tasting some food and drink samples until 2:50 rolled around and Marvelous Toy began to play at the Sunset Stage.
Marvelous Toy was a well-placed band for the middle of a sunny, breezy afternoon. Their lead singer was effusive and practically jumping off the stage while reinvigorating the crowd with his band's catchy, synthy music. The crowd loved them so much and Marvelous Toy seemed so reluctant to leave the stage that they went over their set time by at least twenty minutes!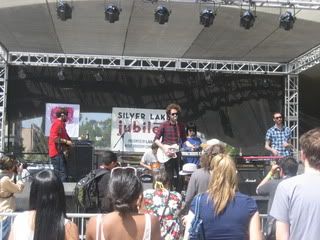 Marvelous Toy
I willingly loitered around the stage hoping that the next group would be just as good as the last two. Sadly, the next band, The Finches, was more quizzical than musical. Donning odd masks, they played a much more mellow and rather forgettable set of songs. I (and mostly likely, much of the audience) was so fixated on the lead songstress's mask made of silky tresses that we completely forgot to pay attention to the music.
As I watched these three bands, I was still acutely aware and disappointed that I had yet to fulfill my ultimate goal to interview Lady Danville and catch up with my favorite band after two long years. With 20 minutes before they went on stage and my chances looking bleaker and bleaker, when I suddenly saw Michael, the keyboardist of Lady Danville walking right past me. I shamelessly yelled his name in his face hoping that maybe he would have a few minutes to spare for me between sound check and their performance.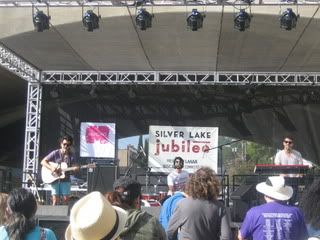 Lady DanvilleAfter being slightly disquieted by the fact that a seemingly random person was screaming his name, Michael was gracious enough to provide KXSC an interview! It was great to see how much Lady Danville had grown since the last time they spoke with me. Since two years ago, Michael, Matt, and Dan had gone on two nationwide tours, hopping all over the United States and steadily garnering huge group of fans. When asked what was one of Danville's most memorable tour experiences so far, Michael reminded me that he and Matt told me two years ago that they dreamed to someday go on tour with Ben Folds. Amazingly, this past November, Lady Danville's aspirations came true as they traveled with Ben Folds up and down the Northeast, performing in major cities such as Chicago, Boston, Charlotte, and Atlanta to sold-out concert venues.
Despite this traversing across the country, Michael admitted that Lady Danville had never performed in the Silver Lake or East LA area; thus, they were very glad for the opportunity to perform here today and stop by in their hometown of Los Angeles. Unsurprisingly though, SLJ was just a short pit stop and respite for the band. Beginning in mid June, the group will begin yet another nationwide tour, this time with Jack's Mannequin and Steel Train, stopping in places such as Fargo and New Orleans. Luckily, Lady Danville will eventually return back to sunny Los Angeles and perform at Sunset Junction in August. Even better, Michael said what I had been eagerly hoping to hear for two years: once the trio returns to Los Angeles, they will begin recording music for a new full-length album.
I finally let Michael go meet up with Dan and Matt to complete their sound check, while I staked out a spot near the stage in anticipation for their performance. Soon enough, Lady Danville hit the stage, opening with one of their brand new songs. Their set was a mix of older works from their EP and newer ones that they had written since its release 4 years ago. The crowd was also a healthy assortment of devoted fans, singing along with every word as well as new listeners swaying, dancing, clapping, and even hugging along to the band's bright, acapella-influenced songs. Their cover of "Kids" by MGMT was a particular crowd favorite and an excellent twist on the original song, with Dan, Matt, and Michael's voices harmonizing perfectly together in each chorus.
Sadly, after Lady Danville's set, I had to depart from Silver Lake Jubilee, but definitely not without a great afternoon and experience full of excellent music. I am sure that even after I and Lady Danville left, amazing music continued to emanate from Silver Lake Jubilee, gracing Los Angeles with lovely tunes throughout the weekend.