If you're not driving up to the weekender, this Saturday is the 11th annual Eagle Rock Music festival.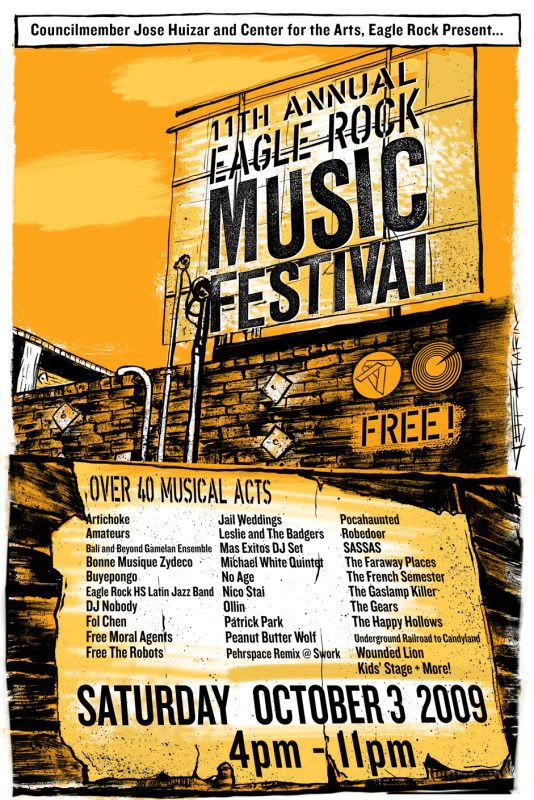 Click the flyer for more info...
EAGLE ROCK MUSIC FESTIVAL 2009
SAT., OCT. 3
ON COLORADO BLVD. BETWEEN EAGLE ROCK BLVD. AND ARGUS

WITH THE EMERGING STAGE w/ L.A. RECORD DJ set and KXLU LIVE STREAM

THE DUBLAB-CURATED FUTURE ROOTS STAGE

THE KINGSIZE SOUNDLABS + THE SHIP STUDIO'S "EAGLE ROCK BLOCK" STAGE

PEHRSPACE "remix" COLLABORATIVE STAGE @ SWORK

RAZORCAKE + ZOCALOC CURATED ELA+SOUTH BAY CNX PUNK STAGE

ELECTRO INTERNATIONAL PSYCH HIP HOP FUNK BY SOUL IN THE PARK + FUTURE
MUSIC

CLASSICAL, JAZZ, LOCAL POP-ROCK COVER BANDS, KIDS' STAGE, WELCOME INN ZYDECO + more….

AND THE COMPLETE LINE-UP OF BANDS…

Artichoke
AM/FM Band
Andrew Lynch
Amateurs
Bali and Beyond Gamelan Ensemble (LIVE EXPANSIVE INTONATION)
Bonne Musique Zydeco
Black Dynamite
Blank Blue
Buyepongo
Carnage Asada
Computer Jay DJ Set
DJ NOBODY Set
Suckapunch DJ Set
Dusty Rhodes and the River Band
Dubclub Echodelic Soundsystem w/ Guest Vocalists
Eagle Rock High School Latin Jazz Band
The Faraway Places
The French Semester
Free Moral Agents
Fol Chen
The Gaslamp Killer
The Gears
The Happy Hollows
The Ignorant
Jail Weddings
The Joe Johnston Band
Juan Vega and Friends
Julia Holter (Human Ear Music/HIGHLY ELEVATED LIVE SET)
KoTolan
Kutmah
Leslie and the Badgers
Linus of Hollywood
Mas Exitos DJ Set (CENTRAL & SOUTH AMERICAN DANCE PARTY)
Michael White Quintet Featuring Vocalist Leisei Chen
Mochilla DJ Set
Morning Glory
Mumpo
Nanny Cantaloupe DJ Set (FAR-OUT DJ SET)
Nico Stai
No Age
Ollin
Our Future
Ovideo
Patrick Park
Peanut Butter Wolf
Pocahaunted
Random Patterns
Robedoor
Sam Mellon and the Skylarks
Sandra Sandia
SASSAS (Society for the Activation of Social Space Through Art + Sound)
Tim Yalda Quartet
That's Incredible!
The Tracs
Trova: Esteban Leon and friends
Underground Railroad to Candyland
U-N-I
Woolly Bandits
WonderGround
Wounded Lion
Eagle Rock is a short drive from USC. You can get there by driving up the 2 freeway and exiting Colorado Blvd.
How much is a ticket, you may ask? It's absolutely free.